How to Make a Landing Page for Affiliate Marketing
Oct 13, 2023
In the fiercely competitive world of iGaming, crafting the right strategies to capture and convert potential affiliates is crucial. A vital part of that strategy is creating an effective affiliate program, and that's where the power of landing pages comes in. As an online casino or sports betting operator, your affiliate program's success can be significantly influenced by these landing pages.
As an award-winning iGaming affiliate software platform, Affilka understands how instrumental landing pages can be to your affiliate marketing strategy. The right landing page can boost affiliate engagement, and, ultimately, increase your bottom line.
Read on for a walkthrough on everything you need to know about crafting landing pages for affiliate marketing – driving engagement, boosting conversions, and most importantly, delivering results for your iGaming business.
What is a Landing Page?
A landing page is a standalone web page distinct from your main website, meticulously designed to guide visitors towards a specific objective. In the context of affiliate programs, the focus may be less on immediate conversions and more on providing essential information that affiliates look for. 
The essence of a successful landing page lies in its simplicity, focus, and relevance to the targeted audience. For iGaming operators, these landing pages act as strategic touchpoints. Rather than driving immediate conversions, they aim to attract potential affiliates by clearly outlining the benefits of partnering with your brand.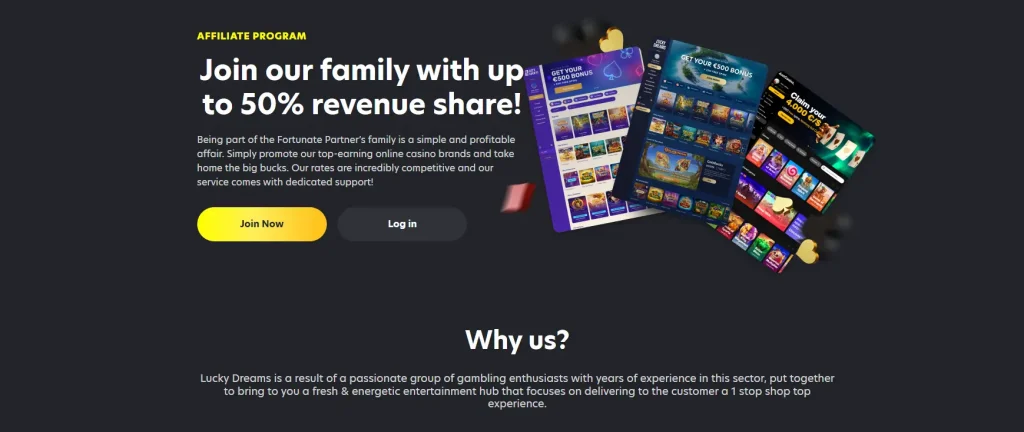 Structure of an Effective Affiliate Landing Page
An effective affiliate landing page includes an attention-grabbing headline, concise yet persuasive copy, compelling visuals, social proof such as testimonials, and an easy, seamless registration form. 
Additionally, a well-organised affiliate landing page should always include:
an overview of your iGaming brand

reasons why affiliates should work with you

sufficient details on available deals/commissions

a succinct overview of all terms and conditions

contact details where affiliates can ask questions
Incorporating login and registration forms directly on the page can also help streamline the process for potential affiliates to sign up with your brand.
Use Tools to Create Landing Pages
In order to build your affiliate marketing landing page, there are numerous tools available to operators. These include dedicated website builders such as Wix, Squarespace, or WordPress – with plugin options like Elementor or Divi. 
Depending on your level of know-how, you may also consider SaaS landing page builders like Unbounce or Leadpages as a relatively straightforward option, thanks in large part to their range of pre-designed landing page templates.
In the world of affiliate marketing, most operators first start by choosing an affiliate platform  – like Affilka – before crafting a dedicated landing page for their program. Once the program is set up, Affilka makes it easy to integrate your landing page through our user-friendly, built-in API.
Hire an Experienced Professional
Creating a well-designed and effective affiliate landing page isn't always an easy task, especially if you're juggling other responsibilities or if you don't have an extensive background in web design or digital marketing. 
In this case, hiring a professional web designer or a digital marketing agency can be a sound investment. Not only will a professional usually deliver an impressive, well-structured landing page, but they'll also ensure it aligns with current SEO trends and effectively communicates your iGaming brand's value – driving conversions and enhancing your affiliate program's success.
If the team behind an affiliate program is running an online casino, sportsbook, or poker room, it's worth noting that their software provider may also offer the service of creating a landing page for their projects. Platforms like the SOFTSWISS Casino Platform, for instance, provide these services as part of a casino's launch, enabling seamless integration and coordination with the affiliate program.
What is Your Goal?
The goal of your landing page is crucial as it guides its design and content. 
For an iGaming operator, the primary objective of an affiliate marketing landing page is two-fold: to draw in potential affiliates by showcasing the unique benefits and opportunities your brand offers, and to motivate them to sign up. 
Being crystal-clear about this goal from the outset will help you create more focused, persuasive content and give you a better chance at guiding visitors towards the desired action.
Affiliate Landing Page: How to Identify Your Audience
Knowing your audience is crucial in affiliate marketing. First, you need to identify who is likely to be interested in partnering with your iGaming brand as an affiliate. Consider their motivations, the types of websites they run, and what benefits they're looking for in an affiliate partnership.
To better understand and segment your audience, you can usually include specific 'qualifying' questions in the registration form on your landing page to gain more insight into your potential affiliates.
Spy or Die
'Spy or Die' is a term used in affiliate marketing to stress the importance of competitor analysis. By monitoring your competitors' tactics and strategies, you can identify what works well and apply these insights to your own landing pages.
Remember though, the goal of Spy or Die is not to copy, but to learn, adapt, and improve – all with the intended goal of staying ahead of the competition and ensuring your landing pages stand out.
Landing Page Examples
Looking for ideas to kickstart your creative process? Examining successful landing pages from other leading iGaming brands can often be enlightening. 
In particular, pay attention to how they craft enticing headlines that immediately grab attention, how they articulate clear CTAs that guide visitors towards conversion, and how they engage potential affiliates with informative and persuasive content. 
Emulating these proven strategies, while ensuring your brand's unique voice and value proposition shine through, can significantly increase the effectiveness of your landing page in motivating affiliate sign-ups.
Conclusion
Mastering the art and science of an effective affiliate landing page is no small feat. It takes a deep understanding of who your potential affiliates are, a meticulously crafted message, and an engaging design that catches the eye. But that's just the start. To truly excel, you'll need to keep an eye on data and adjust your strategy based on what you learn. That's where refinement comes into play; as you gain deeper insights into what your audience wants, tailor your landing page to better meet those needs.
It's usually more effective to first lock in your choice of affiliate management software. With a comprehensive solution like Affilka, you get a foundation that can set the stage for your landing page. Once this robust platform is in place, it's then time to channel your energy into creating a landing page that resonates with prospective affiliates.
Although Affilka doesn't directly engage your affiliates, it does arm you with the tools you need for your business to reach its full potential. Your landing page is the lure that draws potential affiliates in, but the real clincher is the attractive commission structures that you can offer via Affilka. And while your landing page does the work of initial attraction, it's actually the lucrative commissions that will keep your affiliates motivated to fuel the growth of your iGaming operation.
FAQs
If you're new to affiliate marketing or simply want to refine your approach, you may have a few questions. Here, we've compiled some of the most common inquiries about affiliate marketing landing pages and the role of Affilka in enhancing their effectiveness.
What are affiliate marketing landing pages?
An affiliate marketing landing page is a web page designed to attract potential affiliates and encourage them to sign up for your affiliate program.
How can I make my landing page more effective?
Optimise your landing page by using engaging, relevant content (information on your brand, commission plans, affiliate benefits, etc.), clear CTAs, and social proof. Regularly analyse your traffic and user behaviour to identify areas for improvement.
What role does Affilka play in landing page creation?
While Affilka doesn't directly aid in creating landing pages for affiliate marketing, it does provide a straightforward Frontend API. This allows you to seamlessly connect your landing page to our comprehensive affiliate management tools.
What makes Affilka unique for operators?
Whilst Affilka doesn't offer direct reporting on the performance of an affiliate program's landing page, it does provide comprehensive affiliate management tools that are essential for tracking affiliate performance, brand success, and the activities of affiliated players. The platform's real-time statistics and granular reports offer invaluable insights into these key areas. Coupled with its user-friendly interface and straighforward integration capabilities, Affilka stands as the go-to solution for many iGaming operators looking to optimise their affiliate marketing efforts.
Can I use Affilka if I don't have a landing page yet?
Yes, you can. In fact, most operators choose an affiliate management solution like Affilka before they even develop a landing page. Affilka offers a range of tools to manage your affiliate program effectively, from tracking results to providing detailed reports on player statistics. Once you then decide to create a landing page, Affilka's straightforward Frontend API makes it extremely easy to connect the two.
Articles You Might Also Like