Flexible Commission Plans: How Do They Make a Killing for Casino Operators?
Jan 5, 2022
One of the prime movers that determine affiliate marketing success for an iGaming brand is establishing the proper financial arrangements with partners. In light of the highly competitive market, setting affiliate conditions to encourage top-notch partner performance and upsurging ROIs for the business is not a simple task.
iGaming operators recognise how essential it is to enlist the aid of a professional team and find a tool that makes affiliate payouts transparent, convenient, and easy to understand. The Affilka Commission Constructor is an innovative tool that helps increase the efficiency of affiliate marketing, reduce operator's expenses and reward partners for concrete results.
Our manual covers how operators and affiliates can elevate their affiliate marketing performance using the Commission Constructor.
What is the Affilka Commission Constructor?
Affilka is an affiliate management solution designed for iGaming operators. The Commission Constructor is a part of the solution, the Affilka module, to handle partner commissions by defining rules. The feature is aimed at optimising marketing expenses and creating ultra-flexible terms for affiliate cooperation.
Moreover, Affilka goes beyond just calculating affiliate payouts. The Commission Constructor allows to:
Reward affiliates only for traffic that meets the operator's requirements
Automate affiliate commission payments based on the affiliate's schedule
Manage negative carryovers
Give operators and affiliates complete freedom and control over their desired terms
And that's just scratching the surface of what the tool can do.
Commissions available via the Commission Constructor
Affiliate commissions are reward-based payments that partners receive upon attracting traffic to a casino or a sportsbook. The iGaming industry usually offers operators three classic types of partner rewards (CPA, RevShare, and Hybrid); however, this is not an exhaustive list of all the types of affiliate commissions offered by Affilka.
The Affilka Commission Constructor grants operators the choice to turn to classic models or build their own. That's why the exact number of payment models available in Affilka is endless: as many strategies as there are targets – which means operators can build their own payment model for each specific case.
How does Affilka define affiliate compensation? The Commission Constructor contains a set of rules that determine payouts. The rule within the Affilka Constructor includes the following parameters:
Conditions
Qualifiers
Rewards
Modifiers
Conditions
A single rule can have an unlimited number of Conditions. Conditions ensure that all players or a group of players meet the operator's partner requirements. What kind of conditions are possible?
NGR (casino or sportsbook NGR generated by referred players)
FTDs (the number of first-time depositors referred)
Effective deposits sum (deposits sum excluding cashouts sum)
Deposits sum (the total amount of all deposits made by affiliate's players)
Deposits count (the number of all deposits made by referred players)
Wager amount (the sum of bets made by referred players) and so on.
Conditions are often the first frontier through which an affiliate's traffic passes. If the Conditions are in place and successfully passed, then the system goes to check the next parameter, the qualifiers, and assign awards. If no conditions are specified, the system assumes they are satisfied by default and checks compliance with qualifiers or counts the awards.
For example, the operator sets the following conditions:
Condition 1: Min FTDs count: 30; no modifiers
Condition 2: Min Casino NGR: 1,500 EUR
Modifier: Activity from last bill
A commission created with this set of conditions via the Commission Constructor will only count towards an affiliate if both conditions are met. If one of the conditions is not met, the corresponding reward is not counted.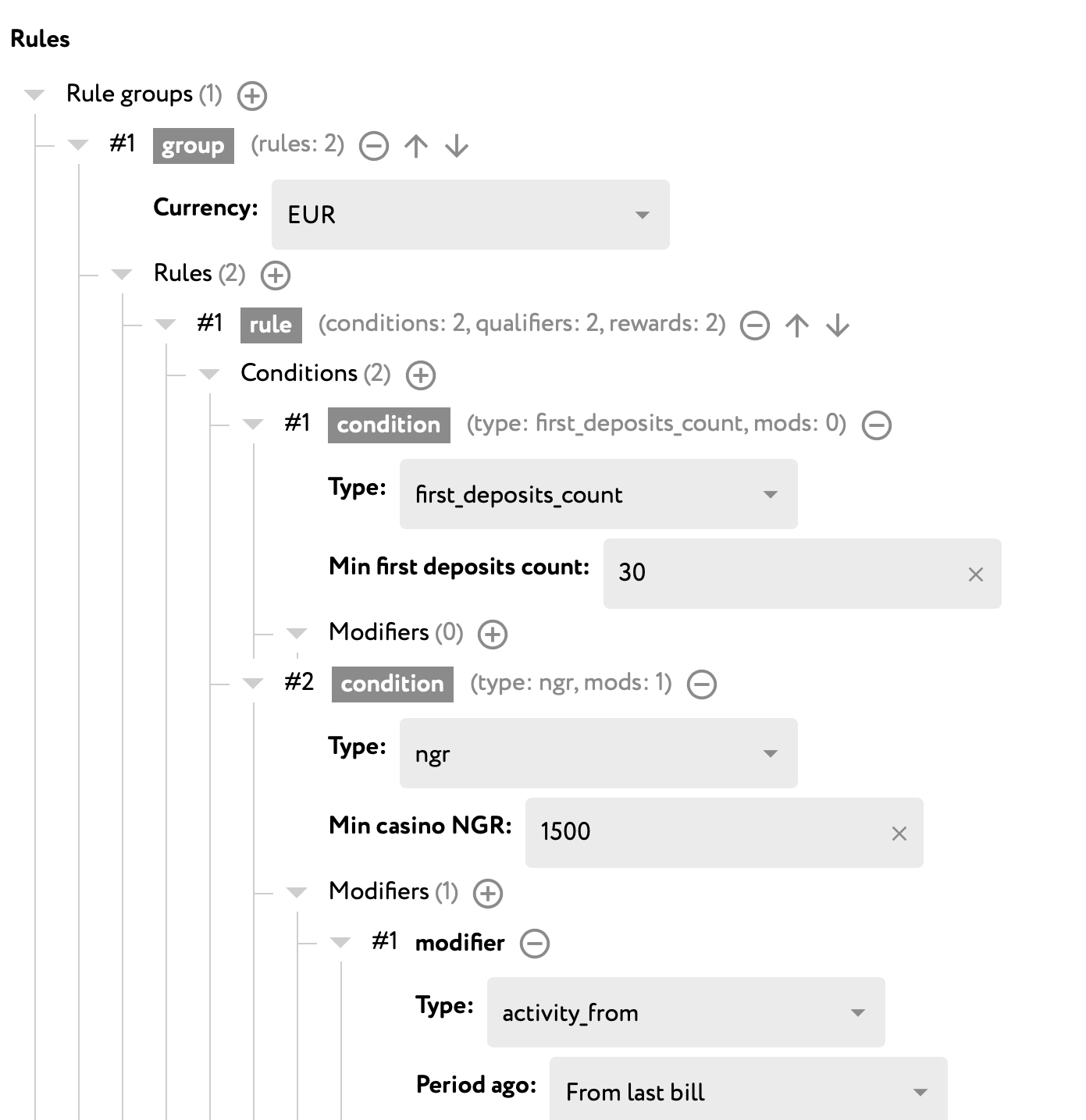 An affiliate is expected to direct at least 30 first-time depositors since the very beginning of the affiliate-operator cooperation (lifetime). At the same time the Casino NGR of all affiliate's players during the reporting period must be at least 1,500 EUR (depending on the commission schedule – a week, a day, a month, etc.)
The affiliate may refer 30 FTDs to a casino during their lifetime (for example, 5 months), but if the Casino NGR of all their players for a selected reporting period (for example, a month) is negative, the reward will not be paid.
Qualifiers
After the conditions, if any, the Constructor analyses the players according to Qualifiers. They function similarly to the conditions, except the Qualifier conducts an individual check, rather than a group check, reviewing personal player activity.
For example, an affiliate commission states:
Qualifier 1: FTD amount >=20 EUR;
Modifier 1: Activity from last bill;
Modifier 2: Period from registration 180 days.
Qualifier 2: Wager amount ≥ 20 EUR.
Modifier 1: Activity from last bill;
Modifier 2: Period from registration 180 days.
Let's build on the example from the last point and add 2 more Qualifiers to the 2 Conditions. This is what it will look like from the operator's perspective: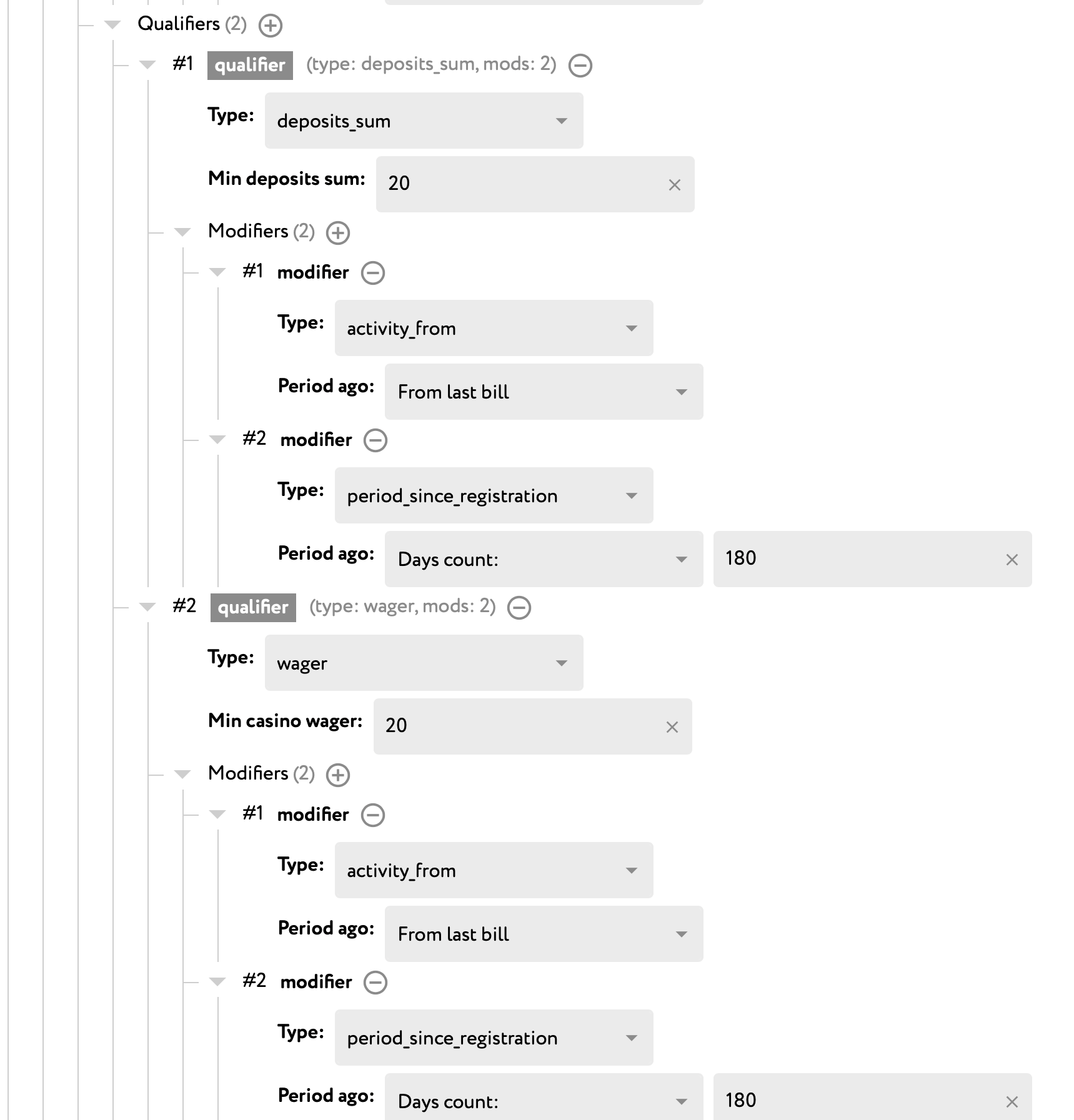 A player has to make the first deposit of at least 20 EUR and wager 20 EUR within 180 days from the moment of registration in the current billing period.
For example, if the player registered in the casino on 5 May, made the first deposit of 20 EUR on 25 May, and wagered 20 EUR in June, the player would not qualify. Per the Qualifier rule, everything must be done within one current billing period – May.
If, for example, the player registered in March and made their first deposit and wager in December, such a player will not qualify, as the deposit and wager requirements had to be met within 180 days from the date of registration.
If the player meets all the qualification criteria, the player is marked as "Qualified" and is no longer checked for qualifiers (to avoid double qualifications).
Rewards
If the players brought by the affiliate pass all the steps of verification, the next step is the formation of the Reward. Rewards can be based on a percentage of net revenue, wagering or deposit percentages, flat fees, etc.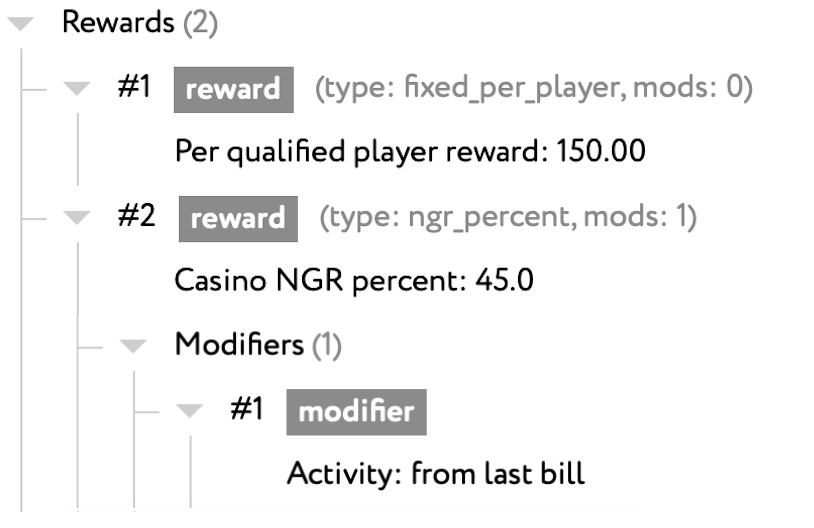 An affiliate will receive 150 EUR for each qualified player. Also, an operator will pay the partner 45% of the NGR of all referred players for the current billing period.
Modifiers
Modifiers are another key concept in the Commission Constructor. They are used with Conditions, Qualifiers and Rewards Modifiers are designed to limit the selection of players according to given criteria. They can take the form of channel, country, self-exclusion, and duplicate filters. It is essentially an internal 'censor' of the system which helps control traffic quality.
Let's go back to our example. The operator excludes duplicates, disabled and self-excluded players. It is also important to limit the geography of players if, for example, a brand is entering new markets and is interested in specific GEOs.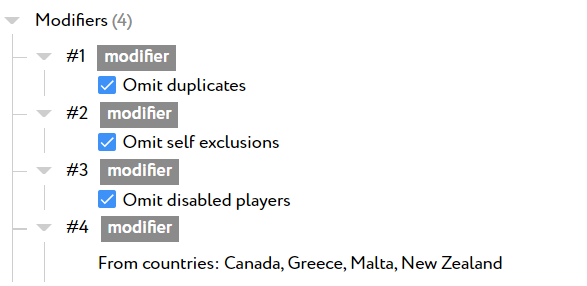 Therefore, the Commission Constructor assists in systematising precise payout rules, making affiliate-operator interactions more productive. Custom rates and reward rules help generate quality traffic, as opposed to just more traffic.
The Commission Constructor: benefits
Setting custom affiliate terms is a great and liberating experience for iGaming operators. Whatever the operator chooses – classic market solutions or creating conditions from scratch – they have options of configuring any parameters to suit business needs. Both operators and partners gain from this choice.
As we continue to dig into the Commission Constructor features, let's examine which advantages are highlighted by operators and what perks partners usually emphasise.
Operator benefits
1. Marketing costs optimisation. Once the terms of cooperation have been agreed upon, the operator implements them in the Commission Constructor as Conditions, Qualifiers, Rewards, and Modifiers. When the arrangement or partner's performance changes (e.g. the affiliate becomes more productive), the operator may create and offer a new commission with updated higher rates. As a result, the Constructor helps increase the efficiency of their partner marketing efforts.
2. Partner performance enhancement. Thanks to the Сommission Сonstructor possibilities, operators can quite accurately set the criteria regarding the traffic they want to receive. In order to be paid, affiliates will need to meet all the conditions they have agreed to, since other audiences will generate no revenue. It keeps affiliates from directing irrelevant traffic to the casino.
3. A high level of automation. Within the Commission Constructor, the operator sets up the rewards for each partner individually, for a group of partners, or just through a default commission – the Affilka team can help establish the parameters if required. Then the solution acts independently, without any need for manual intervention. If, for example, the operator selects a higher RevShare reward for a particular affiliate in their first month of work, on the appointed date, rates will return to their initial level without any interference by the operator.
4. Stats for each affiliate based on a selected period and/or parameter. Having timely and comprehensive real-time reports allows operators to dynamically monitor the project's progress and make necessary commission settings adjustments on time.
5. Balancer-domains setup. A balancer-domain is used to create referral links within an affiliate program. These domains are exclusive and specified in the commission settings. The Commission Constructor enables operators to add multiple balancing domains to a single project. It disperses traffic and safeguards against disruption if one domain fails.
6. Negative carryover management. A negative carryover refers to a situation in which a player's winnings within a particular iGaming brand result in a reduced affiliate commission. Such cases usually do not affect the affiliate's past profits, but the negative balance will be maintained until the affiliate brings in enough players to cover the loss. Operators can either erase debts (no negative carryover scheme) or write them off partially and carry the remaining balance to the next month – the Constructor supports all options.
7. Various currencies and schedule options. The Affilka Commission Constructor offers a range of fiat and cryptocurrencies and any payment schedule convenient for affiliates and operators. Setup assumes choosing 2 main currencies (1 fiat and 1 crypto); all other currencies are converted thereto when invoicing. In Affilka, scheduling is part of the commission module that helps prepare billings in those 2 base currencies. The next step is payments that are made via internal built-in payment processing tools daily, weekly/fortnightly, monthly, or any other schedule approved by agreement between the two parties. Everything can be customised for each affiliate individually.
Affiliate benefits
1. Clear conditions. Affiliates get paid per precise agreement conditions, on time, and without any fine print – only dependable calculations and transparent terms.
2. A user-friendly personal account. An easy-to-use navigation bar saves affiliates time and effort by highlighting relevant activities and sections. The affiliate's profile includes the following sections: commission plans, stats, history of billing and so on. The affiliate commission area is represented by a series of cards at the rate of one plan per card. The table presents basic partnership-related details (debt management, schedule plans, reward calculation rules).
3. Unlimited number of deals per account. Affilka does not limit the number of commissions assigned to one partner; affiliates can have as many rates and strategies at once (e.g. different RevShare plans, several CPA deals, various Hybrid agreements concurrently). Each deal can be tied to different GEOs or traffic sources. As a result, the affiliate can participate in dozens of deals with a single affiliate account.
4. Subaffiliate earnings. The Commission Constructor allows operators to set up payouts for subaffiliates (affiliates the partner recruits to join the project). Subaffiliates can help partners increase their profits. For example, the subaffiliate recruited worked on a CPA deal and earned 10 000 EUR; the master-affiliate can receive an agreed percentage of this reward without sacrificing the subaffiliate's earnings. This is an additional investment on the part of the operator that pays off in higher partner motivation to recruit the best colleagues.
5. On-time payments. No delays on the part of Affilka – automated billing based on the commission schedule, strict adherence to the planned payout dates.
Play by your own rules
Establishing affiliate terms that benefit both parties is not easy, but it is doable if the right solution is used. On the one hand, our Commission Constructor allows operators to keep the best interests of their business in mind, while on the other hand, to engage with reliable partners.
Affilka clients benefit from creating their own performance-oriented reward systems with a range of custom rules. In this approach, both parties work efficiently, monitoring the results over time and reviewing their arrangements if necessary. As a result, Affilka operators do not rely on hard-coded preconfigured commission settings, they create their own unique reward algorithms and rules.
Articles You Might Also Like