How To Create an Affiliate Program for Your iGaming Business
Jan 31, 2022
Marketing in the iGaming market has a reputation for being over-regulated. Even the most experienced operators find developing an online gambling business a real challenge. Search engines don't let adverts through, social networks block campaigns and new player acquisition becomes impossible. That is why affiliate marketing is the life blood of any iGaming business. 
Amid all these restrictions, starting an affiliate program is the best option. Its work model is simple enough: the operator hires reputable affiliates who bring quality audiences to the business in exchange for a commission. But in practice, even at the stage of creating an affiliate program, there are many points to consider.
We will cover most of these challenges and show you how to run a successful iGaming affiliate program that will increase your profits.
Why is an affiliate marketing program so effective
An affiliate program is a part of a marketing strategy that is particularly related to affiliate marketing. Affiliate programs help manage relationships between a brand and its business affiliates. Among other things, they determine the basic terms of cooperation, compensation, and operator requirements. A business model like this helps businesses reach target audiences.
How do affiliate marketing programs work? 
As the diagram below illustrates, it's brilliantly simple.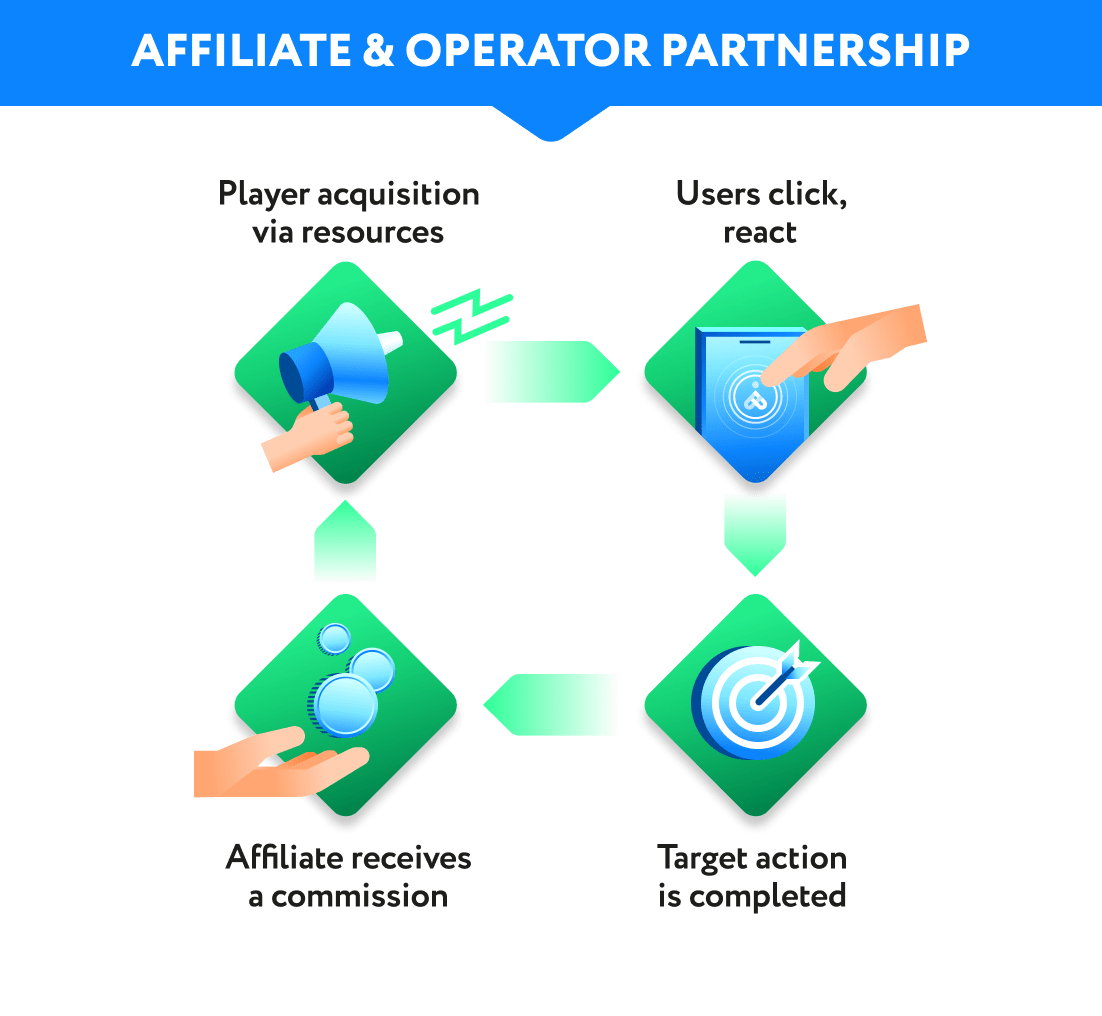 Nonetheless, it's important to understand that behind each step lies a great deal of preparation and a robust affiliate program, without which affiliate marketing cannot succeed. 
Why does any iGaming project, regardless of its size, need an affiliate program?
According to

Affilka's half-year report

, approximately 70% of players are referred by affiliates.

Pay-per-result promotion is the most effective and safest method of generating leads for casinos and sportsbooks. It poses no risk: affiliates receive payment based on how many relevant players they bring in and various actions these players perform (bets, deposits, etc).

Affiliate programs are easily scalable and always adjust to meet dynamic business needs. Later when (or if) the operator intends to scale its business or update its affiliate marketing strategy, the expenditure will be minimal since it already has an integrated solution, affiliate recruitment system, and primary conditions set.



Affiliate programs make reaching new target markets easier, cheaper, and faster. All you need is the right partner.

The number of players joining iGaming grows every year. iGaming brands with strong affiliate programs are likely to capture a larger share of active players.
How to create an affiliate program?
Merely creating an affiliate program is not enough: it needs structure and  nurturing, a productive environment to drive revenue and work at capacity. The steps below outline how to start an affiliate program that will generate results.
Pre-launch
Business strategy and marketing strategy cannot exist in a vacuum without overlapping. Each business goal requires corresponding steps in affiliate marketing. 
The pre-launch phase is the ideal time to review project plans and synchronise the affiliate marketing strategy with the business strategy.
Step 1: Conduct an internal review
Internal audits involve two aspects: the analysis of current business objectives and audience analysis.

Goal analysis involves reviewing and highlighting a project's priorities. What is the state of the business now? What are its objectives? Does it have the resources to reach its goals? This is just a small sampling of questions that the audit usually poses.
Here are a few more pertinent points to reflect on.
A brand portfolio. It's time to look at the number of active brands in operation and determine your plans for scaling up in the future.

Potential audience size. Financial planning involves understanding how many players you need to make a stable profit. Calculate the approximate amount of a player's deposit at this point.

Player acquisition. Determine the audience you can acquire through affiliates and how many players you can attract from other traffic sources. 
These factors need to be considered from both a current stage of the business and a future perspective on growth and scalability.
It is common for companies to connect their affiliate program to one brand first. After testing a number of affiliate strategies, it becomes apparent what works for a particular business and what does not. As soon as operators have gained their unique experience, they often expand the programs.
The next step is to identify the audience. This stage is all about figuring out "what kind of audience do I want to attract to my iGaming project?".
Successful affiliate relationships require an understanding of what the business is about, and which players the casino or the sportsbook lacks. It is crucial to identify and highlight the core of the potential audience, as well as give an in-depth target player description that includes:
Players GEO (depending on the target markets)

Player preferences

Preferred traffic channels
As well as the target audience, the active audience at the moment also needs to be considered. It will help to pinpoint the most relevant categories of games or sporting events, identify impactful traffic channels and so on.
Step 2: Analyse Competitors
The hunt for effective affiliates is not a myth. Each operator's challenge is to find the best of the best and convince them to work for their project. The best way to do this is to assess the market's current status and analyse the strategies of 4–5 business largest competitors. 
What should you pay attention to?
Channels to promote your affiliate program

General partner agreement terms (usually available publicly)

Promotional materials and marketing plans 

Competitors' tone of voice when communicating with affiliates
Copying someone else's experience is a strategy that will, at best, produce the same results as the competitors. Being not just good, but great requires distinctiveness and individuality. The investigation of such nuances, however, may help the business shape a more tempting and compelling affiliate offer.
Step 3: Decide on the right affiliate software 
While theoretically affiliate marketing can be managed manually, it is rarely considered in practice. Businesses with more than 3–5 partners need a system.
Operators arrive at a decision on which affiliate software solution to choose. Here are a few must-haves without which the solution is not viable:
The highest level of security. Be aware that the personal data of both parties is not accessible to third parties.

Integrated statistics. It is a significant point that directly impacts the effectiveness of affiliate performance.

Flexibility in commissions, so that operators may employ an individual approach to each partner.

Transparency in remuneration calculations between operators and affiliates.
The above criteria are minimum, but not sufficient for successful affiliate partnerships. There are a few considerations regarding increased performance, opportunities for automation and scaling processes. Are you planning to:
use the same affiliate solution for multiple brands? Verify whether the chosen solution allows connecting several brands at once.

provide partners with sub-affiliate commissions? It's better to have the necessary functionality even if sub-affiliates are not in the plans yet. It will widen strategy testing opportunities in the future.

create different commissions? Most affiliate platforms offer a couple of classic types of commissions. 'The more – the better' principle has never worked better.

make affiliate payments via the software solution? In that case, pay attention to companies with an experienced team and internal payment management.



expand your business? A solution with maximum automation is a good choice that will save the team's time without compromising quality.
With all the features above, Affilka is ready to strengthen any iGaming project, complementing its clients with easy media content handling, postback management, and more. Affilka clients receive ongoing, full-time support from a personal account manager who helps businesses make the most of the solution.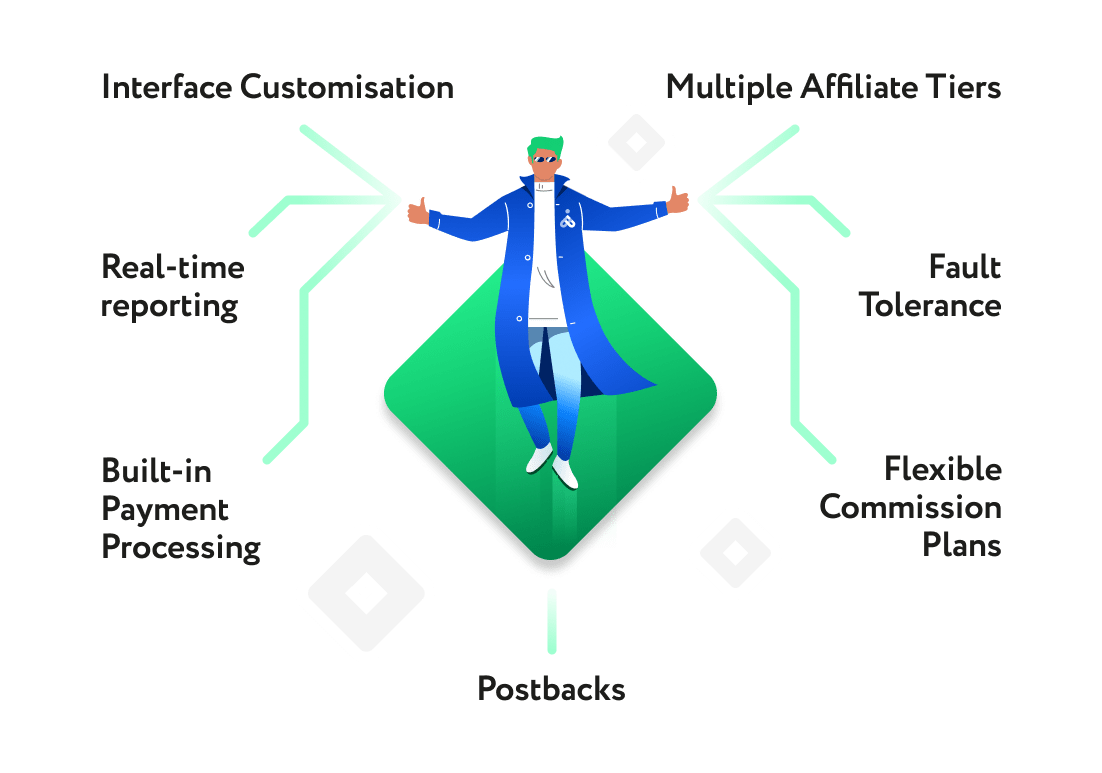 Step 4: Choose the default affiliate commission 
It goes without saying that a personalised approach is paramount to success in any partnership, including affiliate marketing. Each affiliate program, however, has a common starting reward. The basic model is usually the same for all affiliates; the conditions are publicly accessible. 
Affiliate commissions refer to rewards that partners receive when they attract new players. Depending on the commission type, it can be: 
RevShare, which represents a percentage of a financial KPI (deposit amount, NGR, wagering amount, etc.).

CPA, which is a fixed amount per each qualified player.

Hybrid, which combines set fees and percentage compensations.
Results of the pre-launch phase:
The target audience is determined 

Priority GEOs are identified

The affiliate marketing solution is selected

Base project commission is set
Set up
In the set-up phase, there are 3 primary parallel processes:
Affiliate platform integration with the project

Developing a marketing offer for players

Affiliate recruitment
Affiliate platform integration with the project
As for the integration, it all depends on what solution the operator chooses. The easiest and fastest integration is with the platforms using an API. If there is an opportunity to choose how often data updates occur, frequent updates are preferable. Operators always keep their eyes on the ball and modify the strategy to enhance revenue. Affilka, for instance, can upload data once every fifteen minutes. 
Developing a marketing offer for players
At the promotion stage, the operator generates an offer, which affiliates broadcast to players. Promotions can take many forms, such as bonuses, tournaments, and seasonal promotions. 
A catchy design for an offer is crucial. Visually memorable banners, landing pages and other promotional materials are half the battle. Affiliates will not be able to achieve the desired results if the operator's offer is irrelevant for the audience.
Affiliate recruitment
In parallel to all this, brands are looking for partners. Operators do their best to recruit the most effective affiliates. Here are some most productive approaches: 
Expand your media presence on casino and sports forums. While forums may charge a certain commission, the upside is that partners who are already ready for new offers and negotiations – the ideal audience for affiliate program promotion.
Use the brands' social networks at capacity. Make sure to announce your program and cover its benefits. Provide contact information and be ready to answer questions.
Prepare a landing page or a separate section on the company's website. It serves as a business card for the affiliate program and facilitates the distribution of public information to affiliates.
Consider email newsletters. Sending personalised, targeted emails to partners can be a reliable way to reach them.
Engage streamers and bloggers. Since most influencers are highly public, it is easy to determine whether their values align with those of the project, audience engagement, and so on. Such collaborations are often very profitable and targeted.
Take part in affiliate conferences and events. Today, offline interaction is a luxury, and it is better to take advantage of it. Many industry events exist, but the biggest ones, such as the London Affiliate Conference and SiGMA Affiliate Conference, are a must-attend.
The main pitfall here isn't even finding an affiliate (although it can be tricky too). What matters is getting partners interested in your project and offering. Make sure not to neglect opportunities of the platform and set individual conditions for each affiliate. The motto of this stage is to pick your battles wisely.
It's also important to see the recruited partners in action, and Affilka offers that opportunity. When working with a particular affiliate for the first time, operators can set up test commissions. Based on the results of the probation period, brands determine their future collaborations and terms. 
As long as you set up Affilka accordingly, there is no need to reconfigure the system manually. The Commission Constructor maximises automation, switching to the preset plan without extra manual configurations.
Results of the set-up phase:
Integrated platform

Recruited affiliates

Promotion proposal generated
Launch
Congratulations: the system is set up and the business is one step away from its first active players brought in by the affiliates. In the live phase, an in-depth analysis and performance tracking is vital. 
A solution's internal toolkit for statistics is vital here. Affilka allows operators to dive into deep statistics, allowing them to see the main player and partner metrics in real time.
What other KPIs are worth tracking? All operators consider it important for the business, but we recommend paying heed to:
Player LTV. This refers to the number of days a player spends in a game multiplied by the revenue generated each day. Player LTV reflects the loyalty and interest of the players in the long term.

Player Qualifications. It refers to the number of referred players who have met the operator's quality criteria. Player Qualifications reflect the quality of the affiliate's audience.

Average Revenue Per Player (aka ARPU). The figure reflects the total income brought in by affiliate's players divided by the number of recruited players. It represents the profitability of the affiliate's players as well as the overall success of the partnership.
Results of the launch phase:
The system is set up correctly

First results achieved

Systematic monitoring of affiliate performance is in place
People trust people
Delegation is key to the effectiveness of the most profitable affiliate programs. Neither party can do what the other can: operators grow business, affiliates bring in players. As a result, everyone wins: the operator gains a new clientele, the affiliate earns a fair commission, and the players join the game on the most favourable terms. 
The affiliate marketing industry is a legitimate and efficient way of reaching the right audiences at a reasonable cost. Get a flexible affiliate marketing solution and watch your affiliate program grow!
Articles You Might Also Like